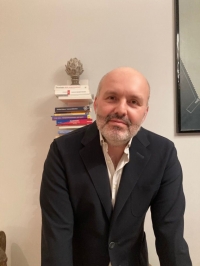 Dr. Alessandro Ortolina
Neurosurgeon
Dr. Alessandro Ortolina, born in Milan December 11, 1971, graduated in Medicine and Surgery at the University of Milan in 1997. In 2002, he achieved the postgraduate degree in Neurosurgery at the University of Pavia.
Since November 2018 he holds the position of Section Chief of Degenerative Spinal Surgery at the Department of Neurosurgery of the Humanitas Research Hospital in Milan. He is Co-author of 20 scientific publications on national and international journals and has participated as a speaker at numerous congresses.
Dr. Alessandro Ortolina is mainly specialized in the area of spinal neurosurgery, in 2012 he achieved the European Diploma in Spinal Surgery. For several years he has been an active member of the European Society of Spinal Surgery and a member of the Italian Society of Neurosurgery.
He has performed as first surgeon more than 3000 procedures, most of them in the field of spinal surgery. He has been a developer of minimally invasive spinal surgery for the treatment of degenerative and traumatic pathology of the spinal column in his operating unit. He is involved in daily clinical and experimental research in the field of spinal surgery at Humanitas Research Hospital in Rozzano, Milan.